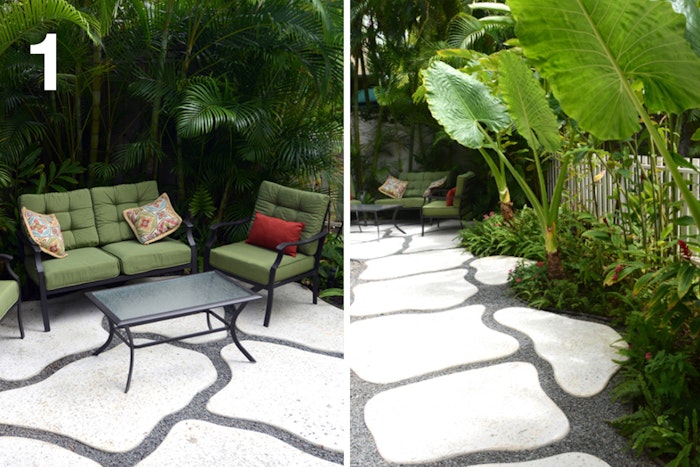 As a former owner of a boutique landscaping business in Hawaii, I've seen it all – from lush and varied small gardens to extravagant, private backyard retreats in some of Oahu's most exclusive neighborhoods. When it comes to landscaping Hawaii homes, inspirations are all around.
Whether you're into Hawaiiana, Asian, tropical themes, or even more universal themes such as contemporary or mid-century modern, creating attractive landscaping in Hawaii is doable for many different types of homes and budgets.
Although color palettes and textures change, the fundamentals of landscaping – the combination of plants, cement, pavers and other items that come together to create a cohesive design – remain the same.
My background in Hawaii landscaping design has informed my business as a Realtor, as I can advise my clients how to best landscape their homes to sell for top dollar. I can also help buyers to visualize the endless possibilities for their new yards and lanais.
Check out these nine stunning Hawaii landscape features, all of which were designed by my previous landscaping company. They are some of my favorite ideas from past projects.
1. Prime Pavers
Evoking the look of running water, these wavy well-laid pavers complement the lush tropical landscape around them wonderfully and create the perfect nook for hosting small gatherings. This low-maintance look is also great for dry areas of the island.
2. The Cozy Lanai
The lanai is an important part of any Hawaii home and can be found in all types of housing – from high-rise condos in town to million-dollar residences on the ocean. The addition of an outdoor rug and porch swing – along with privacy-creating tall flowers – transform this small lanai into a tranquil escape perfect for curling up with a good book and a cup of coffee.
3. Serene Paths
Complementing this home, which boasts beautiful views of the mountain valley that surround it, is a serene path made from gravel, large pavers and railroad ties. Walking paths work well to connect separate parts of a yard and encourage meandering.
4. Lush Wall
Proof that retaining walls don't have to be an eyesore, this lava rock wall is topped off with a large planter that's filled to the brim with lush greenery. The addition of simple greenery takes a utilitarian project to a work of art.

5. Jam-Packed Small Gardens
If your lot has little green space to spare, take a cue from this home and pack in as many plants and flowers as you can around the home's entrance. These homeowners went to town, filling their entryway garden chock full of beautiful flowers and plants. The gravel path and atrractive lava rock wall lead to a clean white privacy gate.

6. Create Privacy
Ask anyone who lives in town, where homes can be packed closely together – privacy is at a premium. These "elephant ears" plants work wonders as an attractive, natural barrier (they're more neighborly than a wall or fence, too!)
7. Functional and Attractive Retaining Wall
Can you spot the well-concealed drainage spouts? This attractive retaining wall has a pleasing stone-like look for that signature old-Hawaii feel.
8. Take a Load Off
After you've put time and money into designing and installing the backyard of your dreams, it's time to sit back and smell the roses (or plumeria!) on your custom bench. This natural beauty is understated and classic – making it a good choice for any style home or landscaping.
9. The Grand Lanai
The big brother to the cozy lanai, the grand lanai offers several different seating areas to entertain many guests at once. A covered, communal space, a spacious lanai is a must have for anyone who entertains often. The wood accents and tall plants add warmth and visual interest to the tall concrete privacy walls.
Travis L. McGaughy, RB-23698
Coldwell Banker Realty
808-542-6540
travis.mcgaughy@cbrealty.com