The Launiu Ward Village - contracting expected to commence WINTER 2023
Project Address - 928 Ala Moana Blvd, Honolulu, HI 96814
(project information gathered from the HCDA website)
Number of Residences - 486 (396 in tower & 90 in podium)
STUDIOS = 141 (avg 400 sqft)
1 BEDROOM = 137 (avg 700-800 sqft)
2 BEDROOM = 143 (avg 1100-1555 sqft)
3 BEDROOM = 55 (avg 1650+ sqft)
Howard Hughes is pleased to bring soon "The Launiu", (literal meaning "coconut fronds") in the Ward Village Neighborhood with vision to transform and revitalize Kaka'ako into an active, diverse and thriving mixed-use urban community. This 400' tall residential high-rise community will include 486 homes, 78,310 sq ft of recreational area, and 21,726 sq ft of ground floor commercial space.  Located between Ala Moana Boulevard and Auahi Street, and west of Ward Avenue, The Launiu's location and orientation were carefully considered to enhance mauka-makai views, and seamlessly integrate The Launiu with the pattern of a connected, walkable and active community coming to life at Ward Village.
THE DESIGN
Utilizing a regional and contextual approach, the undulating building design references a mid-20th century Honolulu international coastal style. Therefore, The Launiu's design will feature high-quality materials including lava stone, opus incertum, cerused white oak and adze finished millwork throughout its upper-level homes. Dynamic and undulating lanais on the tower's facade allow for deep furnishable outdoor spaces along the south, and orient views toward Diamond Head. The dynamic lanai dissolve into the sky like waves in the endless Pacific horizon.
Ground floor retail space and homes on floors 2 through 6 screen the podium parking garage along Ward Avenue and extend around the corners of Ala Moana Blvd and Auahi Street. In other areas the podium is comprised of a series of waves that mirror the dynamism of the neighborhood ocean and create a three-dimensional effect along the portion of facade most visible to pedestrians.
TOWER FLOOR PLAN
Although these may not be finalized plans, the tower floor plan consists of two 3-bedroom and three 2-bedroom units on the Diamond Head side of the building.  All Diamond Head facing units will have balconies (shown in pink).  The Ewa facing building will face the Kobayashi Group's Alia condo.  This side features a 2-bedroom, four 1-bedrooms and two studios.
PODIUM FLOOR PLAN
The podium floor plan consists of a mixture of 2-bedroom, 1-bedroom, studios and guests suites.  Guests suites are available by reservation and only for residents and their guests.  Guest suites are a great way to have family and friends stay close to you at the fraction of what nearby hotel rooms cost in Waikiki.
AMENITIES AT THE LAUNIU
The Launiu will provide a total of approximately 78,310 sq ft of recreation space, nearly three times over the requirements set forth by the 2005 Mauka Area Rules
GROUND LEVEL: Amenities include outdoor and indoor recreational space, including gardens, a lobby, a dog run, and casual meeting spaces.
LEVEL 7 RECREATIONAL DECK: Amenities include outdoor and indoor recreational space, including a raised family pool and lower lap pool, cabanas, multi-purpose rooms, spas, fitness gym, green spaces, beach lawn and much more.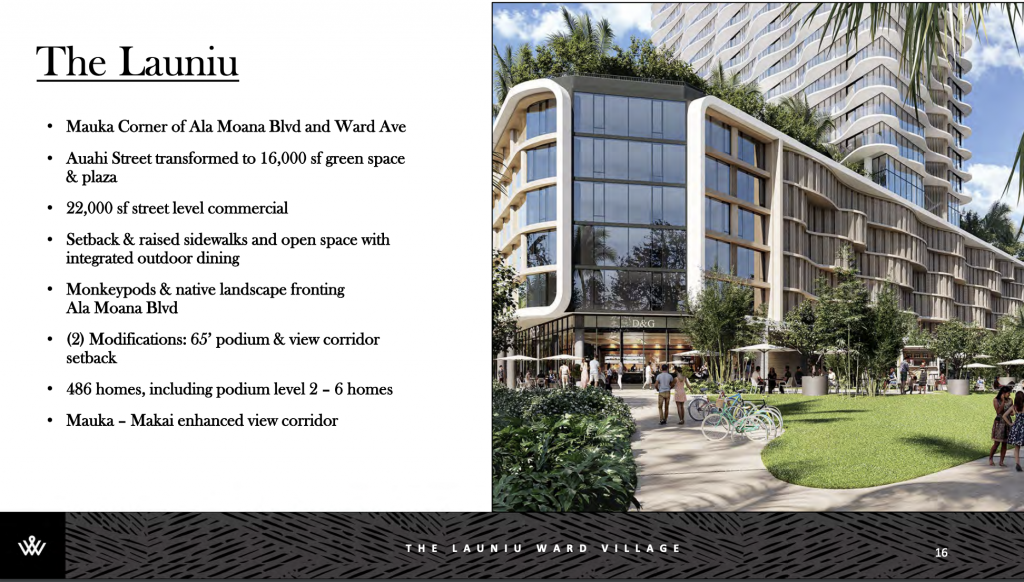 Construction expected to commence third quarter 2023
PROJECT TEAM
Howard Hughes Corporation: (Developer)
Arquitectonica: (Architectural Firm)
ODADA: (Interior Design)
VITA: (Landscape Architecture)
Launiu Interest List , CLICK HERE TO REGISTER YOUR INTEREST